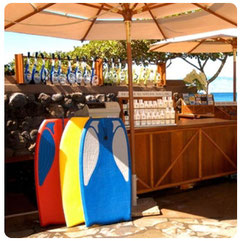 Resort Pool Maintenance provides comprehensive concession services for Central Florida's finest resorts and community pools.  With a vast line of products that will delight your guests, from staff attendants and skin care products to apparel and chair covers, we are your full service pool solutions provider. Save costly overhead expenses by outsourcing this revenue generating service to Resort Pool Maintenance.
Our Concession Solutions include:
CPR Trained Attendants during "season" 7 days per week. Season defined as March 1 thruogh Labor Day Weekend.
CPR trained attendants during off season from 10:00 am to 5:00 pm, 7 days per week in off season.
Spa Quality Suncare Products and Resort Style Sun Wear products and related pool items for purchase by the guests.
Bottled Water for purchase by the guests.
Arranging of Pool Furniture.
Assist in enforcing Pool Rules, ultimately reducing poolside injuries.
Assist in evacuating pool area prior to storms, and notify security.
Assist in closing pool in the event of unsanitary pool conditions and notifying security and engineering.
Pool Novelties and Lounge Chair Pad Rentals if applicable. 
Comprehensive Insurance Package indemnifying the hotel.
All Employees Wear Uniforms and Name Tags.