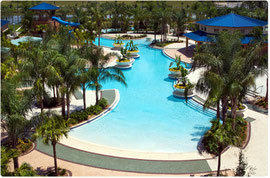 With nearly 30 years of Resort and large Commercial pool maintenance, Resort Pool Maintenance is poised to implement the latest techniques and products into a comprehensive and affordable pool maintenance program for your business or resort. 
Commercial Pool solutions include:
Service your pools (2) and spa seven days a week.
Vacuum, net and brush pools and spa as needed.
Backwash pools and spa as needed.
Water testing on each visit and recording of results on hours logo, as required by state health code 64E-9.
Drain and refill spa as needed.
Clean tile on pools and spa as needed.
Provide certificate for Worker's Compensation and General Liability.
Chlorine shock pools as needed.
Provide copy of Orange County swimming pool Competency card and CPO card.
Prompt communications with on-site engineering department for needed repairs on pools and spas.